Introducing CODI
(Convergence Optimised Date Integration)
"What makes an eCommerce system smart?" The answer is Integration.
Essentially CODI acts as the link between the various systems in your business and your website.
Most software programs use files and systems that can't be read in other software or systems. This is what causes the problem for you, your website and your Accounting Software don't talk the same language so you need to input the information into the language your Accounting software uses for example.
CODI is a cloud based SaaS (Software as a Service) data gateway that takes information from each of your systems in your business and translates the data into a format that can be used by the next system, that way the information can be shared and used seamlessly and without the need for human interference.
This is done by a "Core Engine" that converts the data and "CODI Connectors" that connect to your systems so they can receive the information.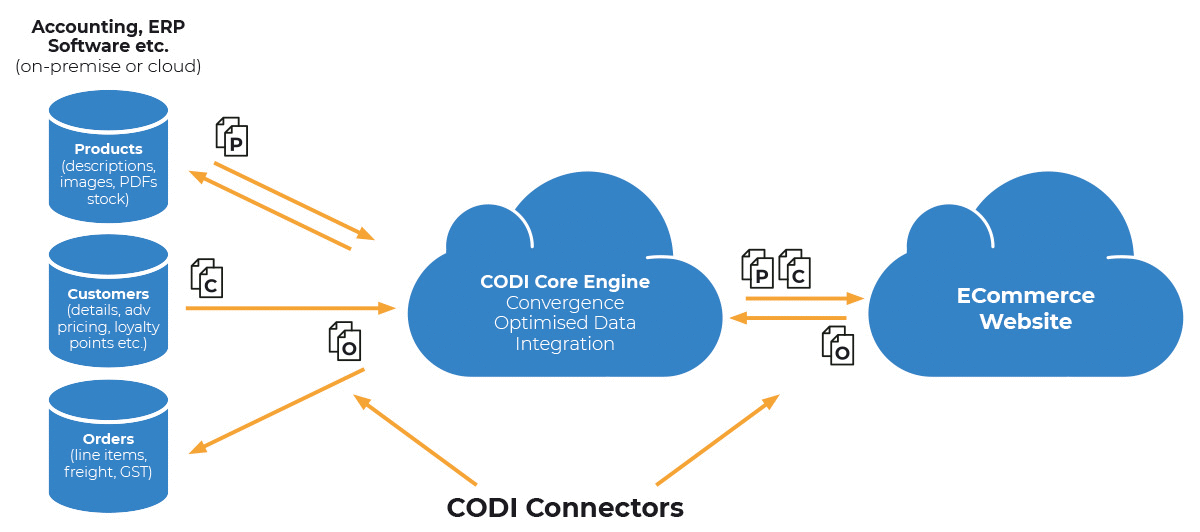 CODI Connectors
There is an ever growing list of CODI connectors. Here are some of the available systems right now but contact us and we can develop software that connect CODI to your system if it is not on the list. Of course if you have a system that has been tailored for your business our engineers are ready to help as well.
ERP & Accounting Software
Use our common set of API endpoints to connect to a wide range of ERP and accounting software packages !!  CODI provides a set of common API endpoints for some of the most popular accounting solutions including Infusion, Attache, Accredo, MYOB EXO, Quickbooks etc. The list of integrated products is continually expanding.
We can also integrate with SQL based database (including Access, MSSQL and MySQL).
If your accounting package is not shown, make sure you contact us and we will see if we can add it to the list.












eCommerce Platforms
Typically we look for an API [Application Programming Interface] or other suitable method such as Web Services or even ODBC to programmatically push and pull data in and out of eCommerce platforms, online catalogues and shopping carts.
A growing list of CODI Connectors makes synchronising data with eCommerce platforms easy and expedient.








Talk to us
Remember, if your business application or eCommerce platform is not listed above, contact us and we can work with you to modify one of our existing CODI Connectors to suit your requirements.We're here to help and we look forward to a challenge!