Snapper Rock builds bridge between NZ and USA
EDI eCommerce Website Integration with 3PL [Third Party Logistics] Provider's Sage 100 ERP System for Snapper Rock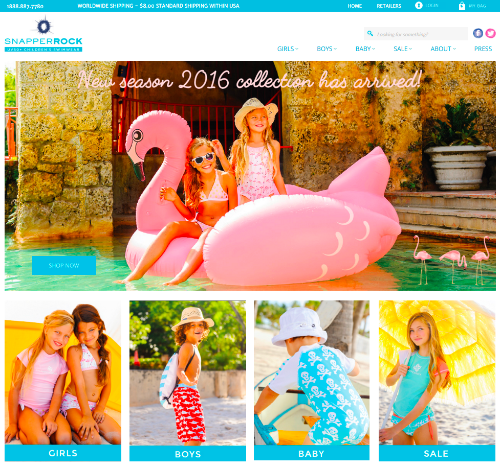 Snapper Rock
Sun Protection Swimwear for Children
Snapper Rock was started by Liz Eglinton in 2003 after she noticed a gap in the market for cool, fresh and fun in the sun protection swimwear for children.
Living in the US at the time, Liz launched her new business and it was not long before she started to see growth – especially at tradeshows and events where substantial orders were placed.
As the business grew and order volumes increased, whilst the designs were created and approved locally by Liz and her team, manufacturing was outsourced to China. Storage and distribution was arranged via a 3PL [Third Party Logistics] provider based in Yardville, New Jersey, USA.
It soon became obvious to Liz that the next step in taking Snapper Rock to its full potential was online.
The Challenge
Not operating efficiently
Here's where Liz's pain lied; she was building the perfect platform and was ready for the orders to roll in, but everything was having to be done manually on the back end. Given Snapper Rocks growth Liz explains that "With the numbers of orders we were receiving, we were not operating efficiently as we were having to manually handle each order." Product information such as stock levels, order statuses and online sales transactions had to be manually checked and edited and then passed on [again manually] to Snapper Rocks 3PL logistics partner all the way over in New Jersey.
There had to be a more efficient way to do things [Spoiler alert: There is!].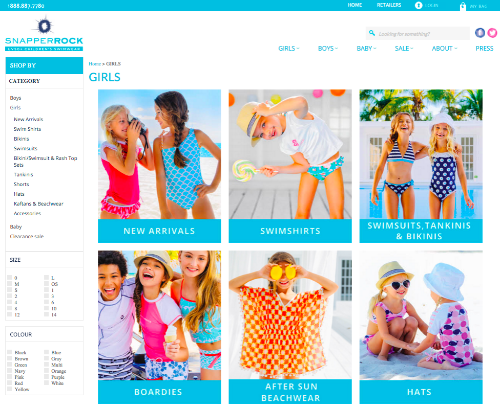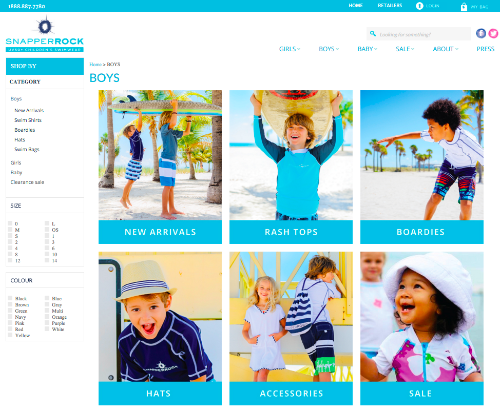 The Solution
Close the Gap
The next obvious step for Liz to solve her problem was to close the gap between the new Snapper Rock website and her 3PL providers ERP software. In other words she wanted to integrate their new eCommerce website and Sage's ERP system in order to facilitate fully automatic order fulfilment. Enter: Convergence
Convergence, Liz and a representative of the 3PL provider in the US used Skype and conference call facilities to sit down and discuss in detail the requirements of Snapper Rock and the desired integration.
A plan was made to solve Liz's problem and allow her to operate more efficiently. Snapper Rock was to get a fully integrated solution that would automatically detect new orders on their Zeald website and transfer these directly to Sage 100 ERP, which runs on a server at the 3PL providers premises in New Jersey. They also would have order status, stock levels and customer discount information synchronised from Sage back to the website on a regular basis.
"It was great to be dealing with a client, who was very clear about their requirements and had the forward-thinking to see that closing the gap between the companies new website and their 3PL provider would provide significant efficiency gains" says Mark Presnell, Managing Director of Convergence.
The Process
Peace of Mind
Upon signing off a set of detailed requirements and specifications, along with an agreed set of acceptance criteria, Liz now had the peace of mind that the solution would deliver exactly what she wanted and she could sit back and relax and let Convergence do what they do best.
First came the implementation stage; the Convergence engineers worked closely with the representative of the 3PL provider in the US to establish connectivity and access and ultimately testing of bi-directional data transfers.
Testing also covered exception and error handling to ensure that in the event of any faulty transactions, relevant notifications would be sent out by email immediately.
All the while, the new Zeald website was being prepared and upon completion, the new interface was switched across from a development/test site to the new Snapper Rock eCommerce +website.
Just prior to "Go-Live" integration was checked to meet all acceptance criteria, including the handling of order-wide and item-specific coupons. Liz signed off and the integration was put into production use.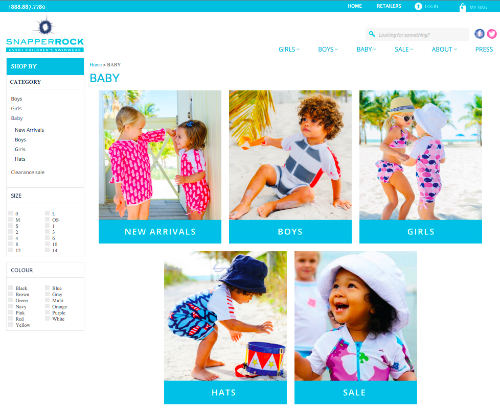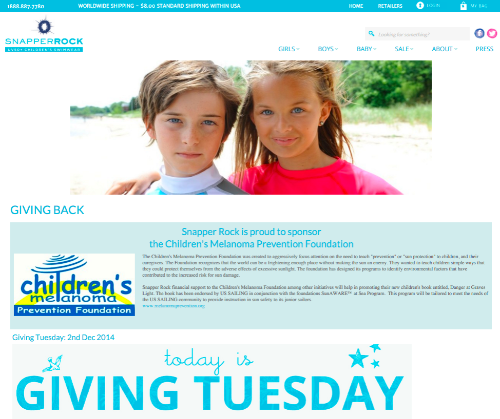 The Result
Convenient access to valuable information
The project was completed on schedule and on budget and the interface has been operating without a hiccup since going live.
Snapper Rock now has a fully integrated system meaning orders received via the new website are immediately submitted to Snapper Rock's US-based 3PL provider for fulfilment ensuring customer orders are processed promptly and reliably and without manual intervention.
Furthermore order status, stock levels, and customer discount information id are now automatically uploaded from the Sage ERP to the Snapper Rock website on a regular schedule thus providing customers with convenient access to valuable information and good customer service.
Working with Convergence
A complete eCommerce solution
Convergence works closely with providers of "end-points", i.e. eCommerce websites, accounting software, inventory management systems, CRM applications etc. to provide custom integration interfaces to suit a client's specific and unique requirements.
"We don't believe in a "one-size-fits' all approach" says Presnell. Each company's way of doing business online will be different and as such, the required integration should be tailored to their specific requirements. Our engineers are very experienced and know which questions to ask to fully clarify requirements and define a solution. More often than not, this process highlights items of discussion the client may otherwise not have considered themselves adding considerable value to the project".
Liz Eglinton, Founder and CEO of Snapper Rock confirms this saying "Talking with the guys from Convergence, we were 100% confident that they understood our requirements and what we wanted to achieve. Convergence just made it so easy. They even managed to "translate" rather complex technical scenarios into plain English which helped." Liz continues to say "We spoke via Skype to confirm all of our requirements and they just made it happen on time and on budget. It couldn't have been more convenient. We are just so happy that it all works and having the integration in place really makes our new website a complete eCommerce solution."